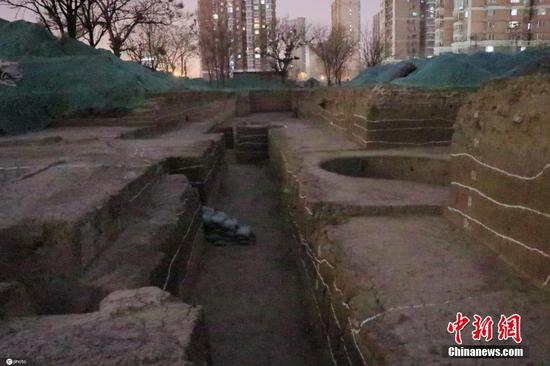 The archaeological excavation site of Zhongdu of Jin Dynasty (1115-1234) at Fengtai district in Beijing. (Photo/China News Service)
New key archaeological findings in the southwest of downtown Beijing unveil the city's early years as the "national capital", dating back about 900 years.
The first discovery of outer city wall ruins of Zhongdu, or central capital, of Jin Dynasty (1115-1234) were unearthed in a two-yearlong archaeological research, said the Beijing Municipal Administration of Cultural Heritage on Wednesday.
Ding Lina, the lead archaeologist of the project, said five sections of earthen wall ruins totaling 60 meters were discovered in Fengtai district. They were originally on the western and southern sides of the capital city during the Jin Dynasty.
"The findings help us figure out the basic layout structure of Zhongdu's city walls," said Ding, who is also from the Beijing Archaeological Research Institute.
Jin Dynasty was founded by the Jurchen people who once ruled a vast territory in today's North China. In 1127, its powerful army seized the capital of Song Dynasty (960-1279), which is now known as Kaifeng in Henan province, and took two Song emperors as prisoners, marking the end of Northern Song period (960-1127).
Song royalists moved to Lin'an-known as Hangzhou today-and a lasting military standoff between Jin and Southern Song (1127-1279) started. In 1153, the Jin rulers set its capital in Zhongdu, and the city grew to be a prosperous metropolis.
Beijing then became the capital of a national dynasty for the first time.
Compared with household history of major events that the public knows of, Ding said that remaining historical recordings of Zhongdu city are scarce.
"We don't have much to refer to," she said. "For example, we didn't know how the wall was built, so this archaeological excavation provides crucial evidence."
More than 2,900 square meters of the Zhongdu city wall ruins were unearthed in the last two years. A section of the western wall, which is 24-meter-wide in its thickest part, is the best preserved one among the five. The wall is located near the Lize Financial Business District. As recorded in history, Lize was also the historical name of a Zhongdu city gate.
The city wall was found to be mainly piled up via rammed earth, but some outer protruding parts were also covered by bricks to enhance fortification.
Though the unearthed part only covered a corner of the ancient city, its splendor has come to light through more details.
A 66-meter-wide moat was also excavated, and so were several roads by the wall. Other important relics include broken porcelain pieces, which were burned in Ding Kilns and Jun Kilns, the top-tier ceramic workshops of its time.